The Acres Casino Management System was developed to help online casinos be competitive by leading the way in efficiency, performance, and profitability. With over 50% off current pricing for this month only on our Precision Bonusing™ program.
Acres Launches Precision Bonusing™ for its Foundation™ Casino Management System. The company's new system is designed to provide a more flexible and accurate way of tracking player activity, which will help casinos better understand the true performance of their games. Read more in detail here: acres technology.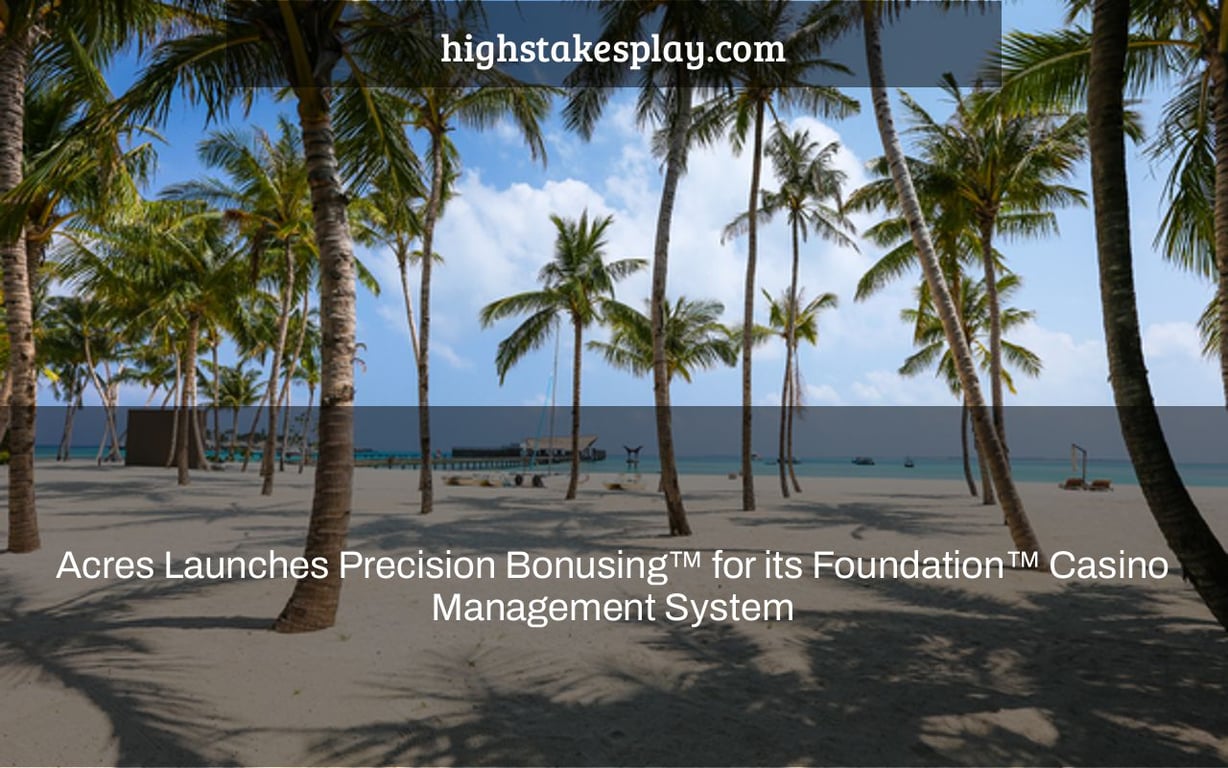 (April 6, 2022) LAS VEGAS — Precision BonusingTM, a bonusing platform compatible with any slot machine linked to the Acres FoundationTM ("Foundation") casino management system, was launched today by Acres Manufacturing Company ("Acres"), a leading casino loyalty and technology provider. With Foundation's market-leading technology, casino operators can instantly make any slot machine cashless and bonusing compliant.
Precision Bonusing is a collection of bonus apps that link to any slot machine using the FoundationTM technology. Each bonus application is extremely customizable, enabling casino owners to change the bonus pay table, trigger events, and even the look and feel of the player-facing bonus sequence.
"Precision Bonusing enables casinos to effortlessly combine their own branded material into thrilling casino floor incentives," stated Acres Manufacturing's Noah Acres. "By offering a completely customized menu of rules and trigger events, our new bonusing application surpasses old bonusing experiences." Precision Bonusing helps casinos to distinguish themselves by incorporating their distinctive brand identity into on-the-floor casino bonusing, while legacy bonusing systems use the same themes across various casinos."
Precision Bonusing will make its premiere at the Indian Gaming Trade Show and Convention (also known as NIGA) in Anaheim, CA, from April 19-22, 2022. Acres will show off a multi-level progressive, a wheel bonus, and a first-of-its-kind mobile bonus that delivers cash and non-monetary rewards straight to an app-based cashless wallet during the presentation. Casinos may also design their own bonuses or utilize those given by Acres or third-party developers on the Foundation App Store.
Bonusing boosts casino excitement by allowing players to earn cash and prizes in addition to the slot machine's pay table. Acres Gaming invented the idea in the 1990s, but it hasn't changed much since the firm was sold in 2004. As a consequence, casinos today continue to depend on the limitations of 25-year-old system hardware that is still prevalent in land-based casinos. Casinos can now provide the sorts of real-time, data-driven, tailored experiences that digital businesses have utilized to fuel their fast development thanks to the launch of FoundationTM and Precision BonusingTM.
"The absence of technical innovation is a fundamental reason why casino revenue growth has lagged behind other tech-driven businesses," Noah Acres noted. Precision Bonusing allows casinos to disclose and transmit cash and other rewards to a player's mobile device, which is the current consumer's preferred platform. Precision Bonusing's ability to interface a live gaming session to a player's mobile device allows casinos to influence players wherever they go, with the typical US adult spending over four hours per day on a smartphone."
Acres has recently launched the Precision Bonusing™ for its Foundation™ Casino Management System. The system is a new way to reward players with real money that can be used in any of Acres' casinos. Reference: acres technology stock.
Related Tags
acres manufacturing company
acres technology ipo
acres foundation
acres manufacturing las vegas
acres gaming