Canadian sports betting company FanDuel has suspended activities in Ontario after the Canadian province's gaming regulator imposed a ban on online gambling. This is due to huge differences between how regulated and unregulated fantasy sports are, which make them prone to fraud risk.
The "DraftKings" is a daily fantasy sports platform that has suspended its activities in Ontario. The company has not yet released a statement on the suspension, but it is believed that this decision was made due to the recent changes to Canadian gambling laws. Read more in detail here: draftkings.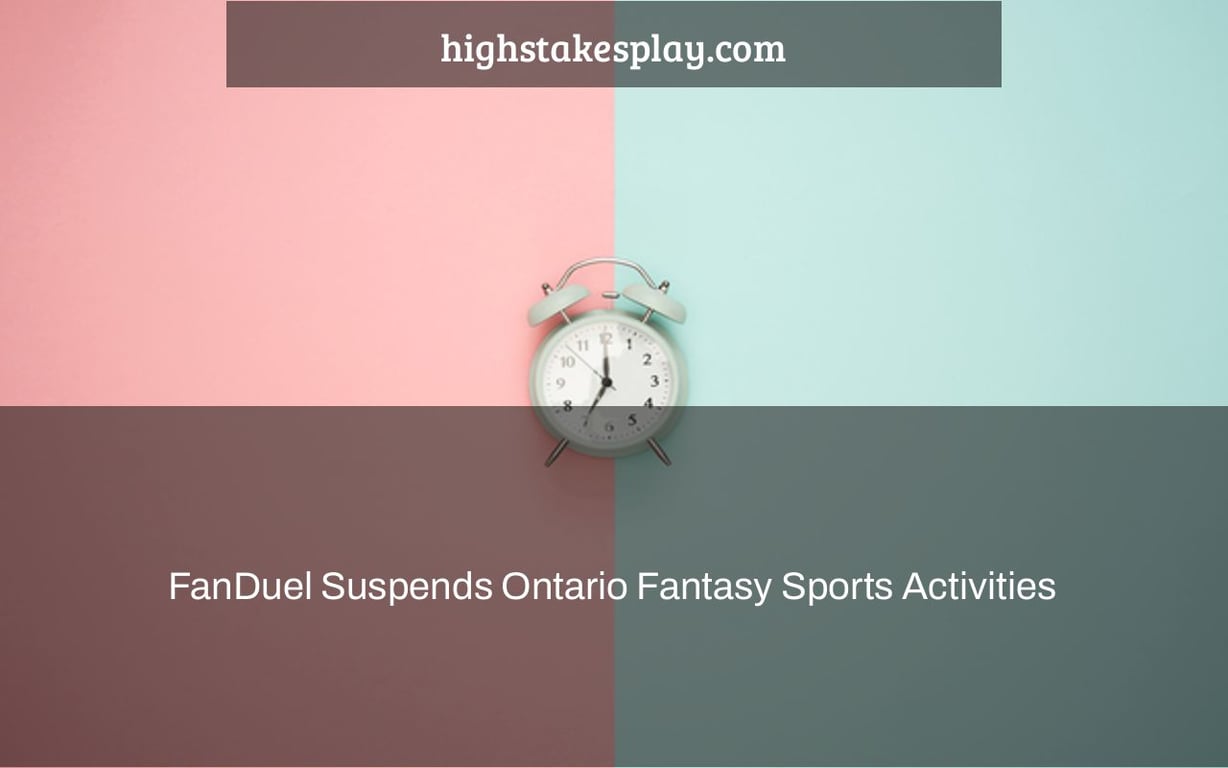 This week, the Fantasy Sports & Gaming Association has reported some potentially bad news for fans of fantasy sports from Ontario. According to the latest reports from the association, the gaming leader FanDuel is willing to pull out its fantasy products from the province, due to high taxes and registration fees to the Alcohol and Gaming Commission of Ontario.
Ontario will open its iGaming and sports betting market to operators regulated by the AGCO on Monday. Companies who have applied and been accepted by the commission will be required to pay a CA$100,000 registration fee as well as a 25% tax rate on their earnings. FanDuel, on the other hand, does not agree with the conditions.
Distracting Operators
According to a news release from the Fantasy Sports & Gaming Association, Ontario's high taxes and registration fees have made it close to impossible to operate fantasy sports in the province for almost every operator. The association has also commented that these rates are almost double of what fantasy sports brands pay in order to operate in the U.S.
For example, FanDuel Daily Fantasy stated last week that it would cease its paid and free daily fantasy tournaments in Canada's most populated province beginning this Friday. In light of these developments, the group is urging its member firms and fantasy sports participants to contact Ontario authorities and voice their worries about fantasy sports being jeopardized.
In addition, the group said that it would continue to cooperate with the Alcohol and Gaming Commission of Ontario, which is the new provincial market's regulator, in the meanwhile. It's also hoping to find a method for operators to continue to sell fantasy sports goods in the province while simultaneously supporting the new igaming and sports betting regime's introduction.
The group also noted in the press release that fantasy sports are distinct from sports betting, iGaming, or land-based casinos since they have minimal margins and player pools from many countries. It said that the government's costs and restrictions are sufficient, but that even the biggest companies are no longer permitted to sell fantasy sports in the province.
The New Economy
The AGCO, which oversees the province's new open iGaming and sports betting industry alongside iGaming Ontario, has announced that it will open next week, on April 4, 2022. The jurisdiction has piqued interest, and at least 20 sportsbooks are anticipated to apply for licenses to join and provide their online gambling alternatives to local gamblers and sports lovers.
The commission has given the green light to a number of operators, including Bet365, 888, FansUnite, theScore, Points Bet, Kambi Group, and others. Unibet recently announced that AGCO has granted it a gaming-related supplier license. Once the market opens on Monday, Ontario residents will be able to access the company's Unibet Sportsbook and iGaming products at on.unibet.ca and on mobile devices.
"FanDuel Pulling Daily Fantasy Sports Out of Ontario Due to High Taxes and Registration Fee," Gambling.com, March 28, 2022.
Related Tag