FansUnite, a blockchain-powered platform for rewarding content creators and providing incentives to gamers has officially joined the Ontario's iGaming sector with their new partnership. FansUnite promises to revolutionize how people are rewarded in the gaming industry. The company will be announcing more partnerships shortly after its launch on July 18th.,
FansUnite officially joins Ontario's iGaming sector. FansUnite is the first company to be licensed in Canada, and one of the largest gaming companies worldwide. The company has been recognized as a leader in social casino games, with over 20 million players and more than 100 million monthly active users.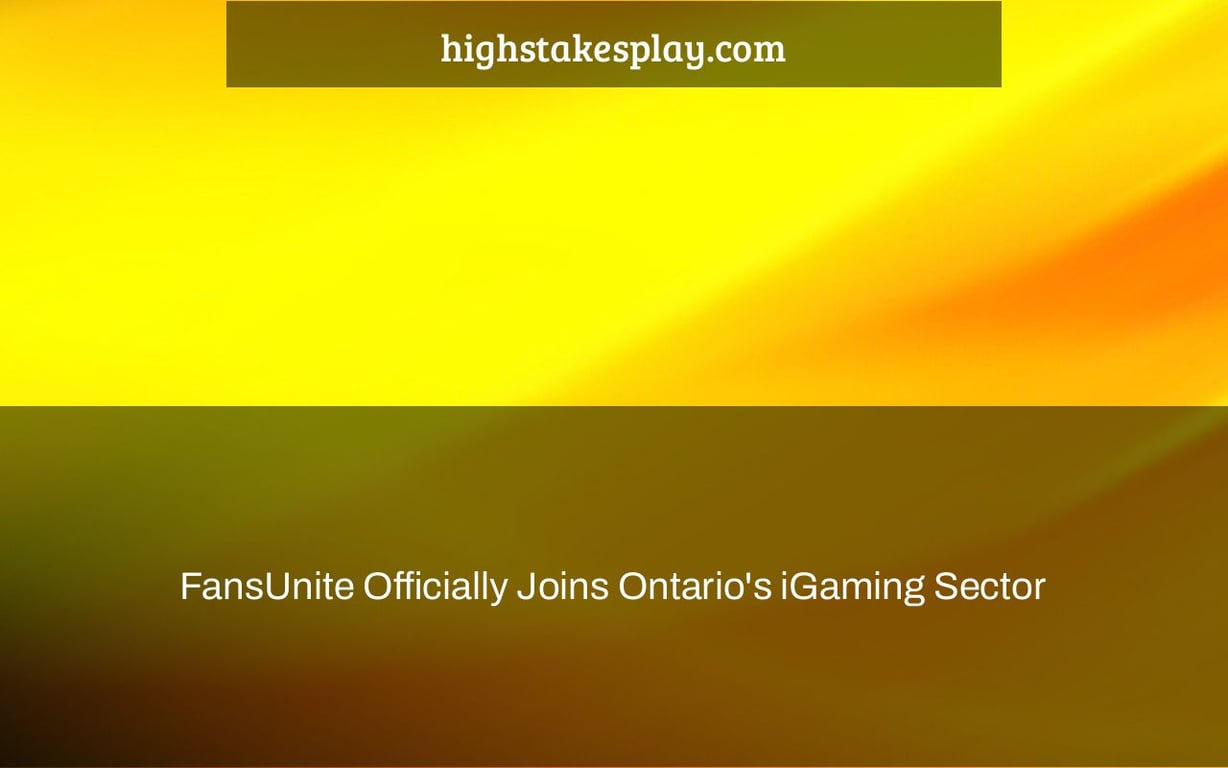 FansUnite, an international sports and entertainment firm, was permitted this week to participate in Ontario's new iGaming and sports betting market this spring. The firm announced on March 7, 2022, that it has been authorized by the Alcohol and Gambling Commission of Ontario after seeking to become a fully registered provider of sports betting and online gaming in Ontario.
The province's open market for private gambling operators was supposed to start last year, but it was postponed until this year. Starting April 4, 2022, province-licensed operators will be allowed to lawfully debut their online betting and gaming goods to an eligible Ontarian player base.
AGCO has now approved it.
FansUnite is a worldwide sports and entertainment firm whose goal is to supply technology for regulated online gambling, as well as a variety of other comparable goods. The firm has a one-of-a-kind iGaming platform that provides pre-match and in-play betting on sports and eSports. Along with daily fantasy offers and RNG casino-style games, there are also daily fantasy offers.
Now that it has been permitted to join Ontario's nascent iGaming and sports betting business, the firm is poised to expand its activities. The company will be able to provide its premium betting solutions to other gaming operators who have also been approved by the AGCO to lawfully enter the market on April 4, 2022, thanks to its license.
Scott Burton, the company's Chief Executive Officer, said in a statement that the gaming leader is pleased to have received AGCO clearance and to be a solution provider for the province's sports betting and iGaming. He went on to say that as the firm grows, it would continue to concentrate on both local and foreign markets.
Mr. Burton further said that the gaming-related supplier license will enable the firm to achieve an early-mover advantage in the Canadian online gambling sector by serving as a betting solution provider for new sportsbooks and online casinos wishing to enter the market. He concluded by noting that the firm is looking forward to collaborating with iGaming Ontario and bringing new solutions to market.
A new operator has joined the team.
Bragg Gaming Group was added to the roster of AGCO-approved operators for Ontario's soon-to-be-regulated iGaming market this week. The top supplier will be able to deploy its player account management (PAM) software to local operators once the market opens in April. It will also provide customers with iGaming content from its own studios or third-party partners, as well as managed services.
Market Research
According to a recent analysis published by OnlineCasinoList.com, Ontario's new open market would be detrimental to legacy companies. According to the report, such operators would struggle to adjust to the new system and will lose many of their players as they migrate to provincially regulated choices. This applies to Kahnawake Gaming Commission-licensed brands, as well as Curaçao and Malta-licensed brands.
Source: Yahoo News, March 7, 2022, "FansUnite Granted License to Become Fully Registered Gaming Related Supplier in Ontario."