JCM Global installed the largest sports betting screen in Oregon at Three Rivers Casino Florence. JCM is a leader in providing dynamic, cutting-edge gaming technology to casinos across North America and Europe. The company estimates that their new screens will contribute approximately $5 million per year for the state of Oregon and create more than 800 jobs.,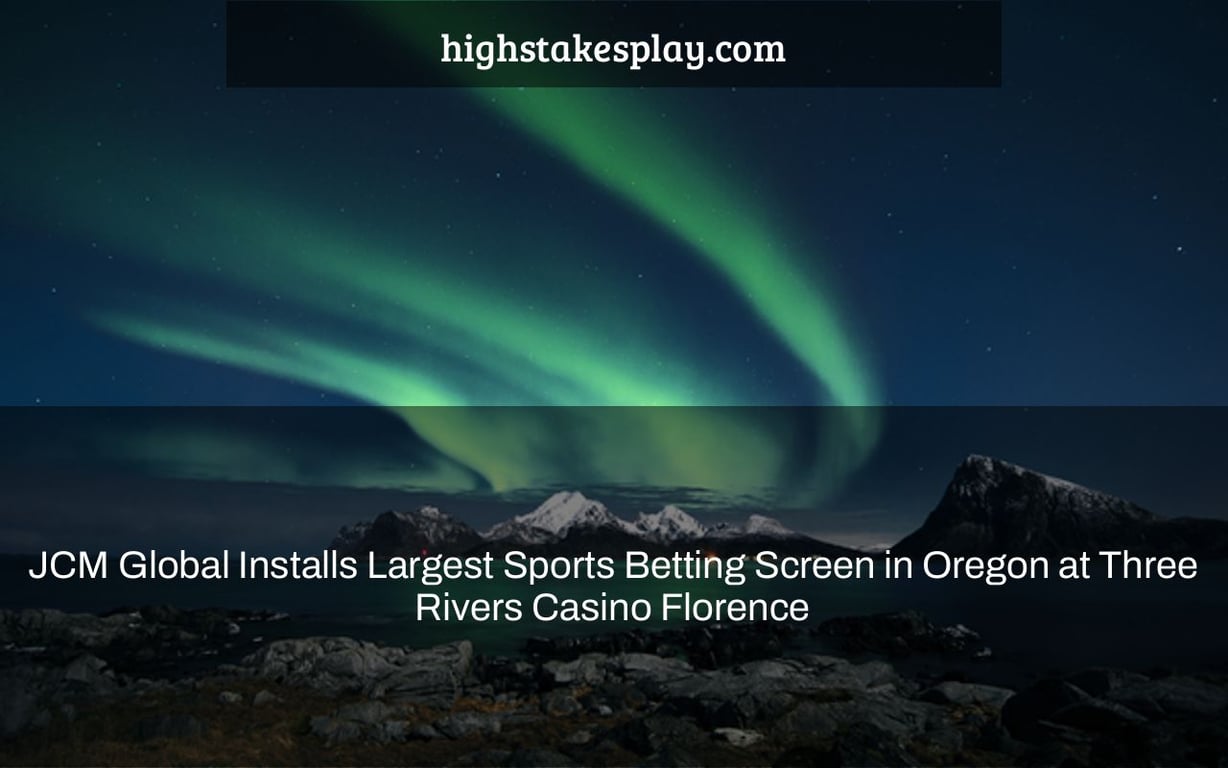 LAS VEGAS, NV (17 January 2022) — JCM Global® (JCM) has built the state's biggest sports betting screen at Three Rivers Casino in Florence, giving sports fans throughout Oregon a new reason to celebrate.
Three Rivers' newly established sports book has a 200-square-foot LED wall as its centerpiece. It was designed with a separate odds board on the right-hand side and the ability to show one, four, five, or six games at a time in the main section of the display. A unique audio system, which JCM installed alongside Delta AV, completes the experience.
"We wanted to provide something unique to Three Rivers Casino Resort when we established our sports book, and we believe our LED video wall has done exactly that." "With the easy-to-use, configurable control pad, we can display up to six events at once and ensure that our customers don't miss a game," said Rick Ray, Director of Gaming Operations at Three Rivers Casino in Florence.
"This project is every sports fan's dream. We had a lot of fun working with the Three Rivers Casino team to create an exciting blend of live sports action and betting action, with incredible video clarity and perfectly tuned audio, for a dynamic guest experience," said JCM SVP of Sales, Marketing & Operations Dave Kubajak.
JCM's digital signage may be customized to fit any location or company need. The LED display at Three Rivers is 26.25 feet wide by 8.2 feet tall, with a pixel pitch of 2.2 millimeters. With JCM's installation gallery, be inspired by the possibilities.
JCM Global is a global consulting firm. JCM Global is a pioneer in transaction and payment technology throughout the globe. The firm offers award-winning solutions like as bill validators, note recyclers, printers, systems solutions, and more through its worldwide network of offices. Since 1955, the company's innovative spirit has resulted in ground-breaking products and components that have been awarded several patents and established global standards. In the banking, gambling, kiosk, retail, transit, and vending sectors, JCM is trusted by operators and suppliers. For additional information, go to www.jcmglobal.com.
Watch This Video-