The WSOP is now live in Michigan, marking the fourth state for operator Caesars Entertainment Corp. The company has also opened online poker rooms in Delaware and Nevada. Each of these states are exempt from federal law that prohibits interstate gambling, a key reason why casinos seek to operate there..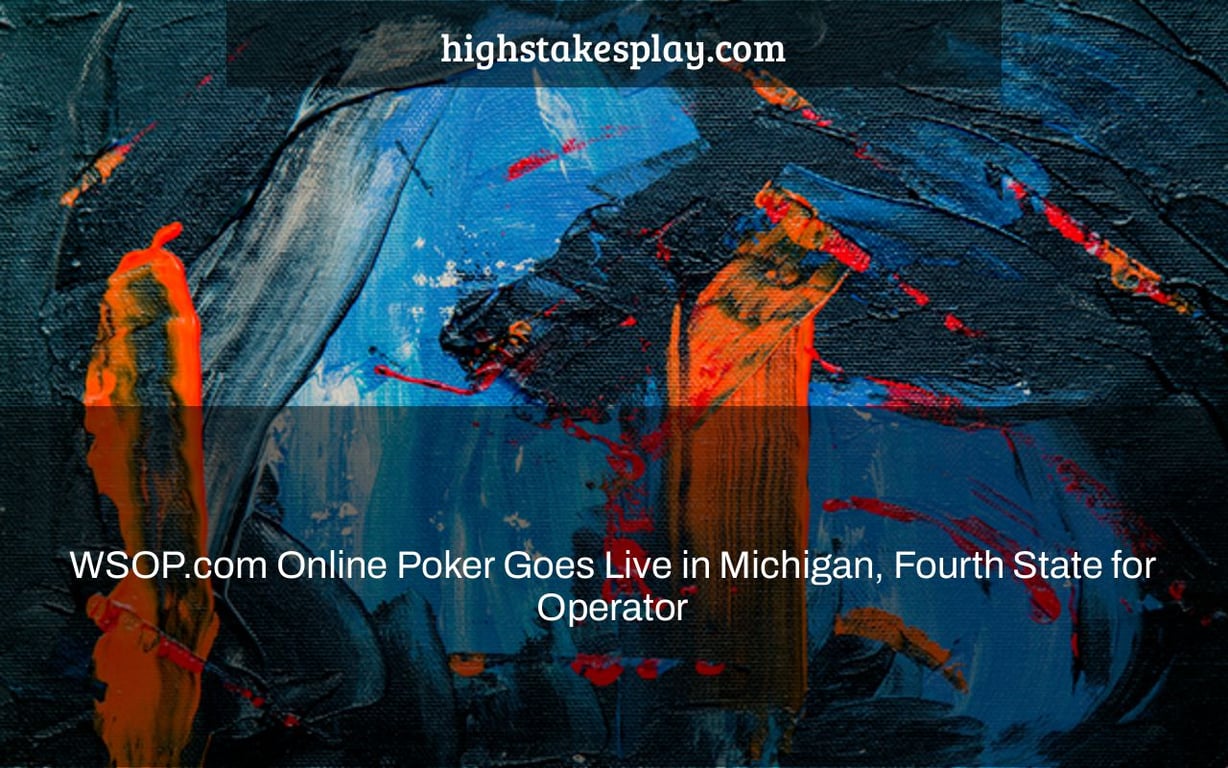 As of Monday, online poker gamers in Michigan have a new choice. Those hoping to qualify for the World Series of Poker are in luck as well.
The WSOP.com platform has officially debuted in Michigan, joining Pennsylvania, Nevada, and New Jersey as the program's fourth state.
In terms of the number of states reached, the site presently leads the industry. The site currently encompasses a state with a population of about 10 million people in Michigan.
"With two world champions (Joe Cada in 2013 and Ryan Riess in 2009), Michigan is a unique market for the WSOP," said WSOP Senior Vice President Ty Stewart in a statement.
"We apologize for the delay, but WSOP.com is ready to make up for it with industry-leading promos, the largest weekly tournaments, and player appreciation bonuses like freerolls to the Main Event in Las Vegas," says the company.
At WSOP, you may get a free $60.
When you sign up, you'll get $10 free.
On your first deposit, you will get $50 free.
On deposit, you may get a 100% match up to $1,000.
Use the following bonus code: 10FREE
WSOP.com Michigan: What to Expect
The Michigan platform, like Pennsylvania's, will be a "ringed-in" environment. This implies that gamers may only compete against other players from the same state.
The Michigan Gaming Control Board, on the other hand, recently published a blueprint for interstate compacts. At the very least, shared liquidity is being studied, and it may be available to state players later this year.
Officials from the World Series of Poker guarantee a diverse range of live games, including No Limit Hold'em and Pot Limit Omaha. A comprehensive schedule of daily guaranteed events is also available to players.
Quick-play BLAST tournaments also provide you the potential to win up to 10,000 times your original investment. Exclusive satellites are available for players who want to attend the live WSOP this summer in Las Vegas.
The Main Event qualifiers start as little as $1. First-time depositors may enter a monthly freeroll for a chance to win a VIP vacation to Las Vegas to compete in the live tournament schedule's largest event.
Bracelet and Circuit tournaments are on the horizon.
Michigan players should anticipate much more than WSOP qualifying possibilities. The WSOP hopes to provide online gold bracelet tournaments in Michigan, as it has in other states.
These allow participants to fight for one of the most prestigious prizes in poker while staying in the comfort of their own homes. Soon, a comprehensive calendar of online wristbands events will be released.
WSOP.com also hosts big weekly online events as part of its daily program. The Sunday Major and Six Figure Sundays are two of them, with guarantees beginning at $50,000. Other major events have guaranteed prize pools of more than $100,000.
The Michigan site, like those in New Jersey, Nevada, and Pennsylvania, will host the WSOP Circuit Online series on a regular basis. The first of these events will take place from April 20 to May 1 and will include 12 championship rings.
WSOP.com Michigan will become the "most lucrative poker site" on the industry, according to business executives. For every dollar of rake or charge generated, players earn two online reward credits.
They may also exchange their points for cash or tournament tickets by going online. Players may also use their Caesars Rewards account to get discounts on hotels, food & beverage, entertainment, and gaming at Caesars properties.
Joe Cada, the WSOP Main Event champion, has agreed to a contract.
The WSOP has announced a relationship with 2009 Main Event champion and Michigan native Joe Cada as part of the announcement. He will represent the platform as a local poker ambassador.
Any Michigan citizen who can outlast Cada in this year's $10,000 Main Event will get a $1,000 prize from the four-time bracelet winner. The four-time bracelet winner has much more in store.
This includes holding live tournaments around the state, live broadcasting sessions from the site, and participating in bounty events.
Cada stated, "It's go time in Michigan." "I know a lot of local players are thrilled that WSOP.com is now available in the state, and I'm looking forward to seeing all of the amazing poker players at tournaments and online events in the near future." "Let's go!"
★★★ Are you ready to join the WSOP.com action? Click here for a detailed overview of the site, including unique USPoker bonus offers. ★★★
Frequently Asked Questions
Can you play World Series of poker in Michigan?
A: Yes. The name of the state is Michigan, which means you can play online poker in Michigan.
What states allow WSOP com?
A: WSOP.com is a website that allows people to play poker online in real life, and they have locations around the world where you can do so. They all vary from state-by-state legality on whether or not its legal for them to operate within your area.
Is PokerStars available in Michigan?